Company Profile
ASICSoft understands design teams are constantly pressured from both internal and external forces which can affect a team's ability to hit milestones on time. Therefore, ASICSoft developed a multi-tiered business model with three distinct and integrated business units: Turn-key Engineering, On-site Consultants, and Product Marketing & Distribution. Each of these, independently or in combination, is designed to fulfill our mission …
Designs on Time.
Authorized Product Partner
ASICSoft is constantly searching and building partnerships with elite companies to bring their products and services to our customers. The products and services we market compliment our Design Services and Consulting business units. Currently, our products and services are in such categories as: ASIC / FPGA EDA Simulation Software, PCB Schematic Entry Software, Rapid Prototyping Systems and ESL Integration platforms, and Silicon & Software IP.
read more product partner...
Turn-key Design and
On-Site Consultants
ASICSoft's consulting business unit has two divisions: Turn-key Design and On-site Consultants. Whether you need a full team to implement a complete project or you simply need to lease an engineer to work on-site at your facility, ASICSoft's team and expansive network is your ideal partner for getting projects done on time. So, when you need more horsepower call ASICSoft.
read more turn-key design...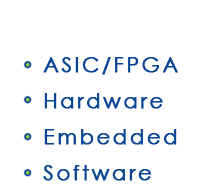 Clients